"我如何 免费从 Apple Music 下载音乐 ? Is this even possible?"
If people were asked about great music streaming service providers, surely, lots of them would mention Apple Music. We can't argue with them. Apple Music is indeed one of the most popular music streaming platforms that has ever been introduced to the public.

Though this platform does not have a free version, unlike Spotify (but people can take advantage of the free trial offer), there are still millions of music enthusiasts around the globe who are into using Apple Music. The perks and benefits offered are truly of high standards.
Currently, to unlock the exclusive advantages that Apple Music is offering, subscribing to one of its paid plans would be needed. The subscription fee ranges from 5.99 USD monthly (学生计划) to 16.99 USD per month (Family plan). Part of the benefits an Apple Music subscriber can enjoy is being able to download songs and listen to them in offline mode. With this, how will it then be possible to download music from Apple Music for free? Let's now look into that further.
内容指南 Part 1: How to Download Apple Music Songs [With Subscription Plan]Part 2: How to Download Apple Music Songs [Without Subscription Plan]第3部分:摘要
Part 1: How to Download Apple Music Songs [With Subscription Plan]
Before we move into the tip that we will be sharing when it comes to how one would be able to download music from 苹果音乐 for free, we'll first share brief information relating to Apple Music downloading using a subscription plan. These are some important points that must be noted.
You can download up to 100,000 songs and save them to your Apple Music library. Compared to platforms like Spotify, Apple Music's download limit is much more generous.
You can only use authorized devices to save Apple Music songs as they are protected tracks.
Streaming Apple Music songs outside the app or on non-supported-Apple Music devices isn't possible unless the mentioned protection will be removed.
An active Apple Music subscription would be needed to download and keep the songs accessible in one's library. Once the membership has been canceled, the download tracks will also vanish.
If you are using a premium Apple Music account, we have here an overview of how you can complete the downloading process of the songs, albums, or playlists, that you like to listen to in offline mode via this platform.
使用您的电脑
Step #1. On your PC, ensure that you have the latest version of the iTunes app. Download and install it if it hasn't been updated yet.
Step #2. Open the iTunes app and log in using your Apple Music account details. Tap the "Account" menu and choose the "Sign in" option to continue.
Step #3. From the pop-up menu on the left side, select "Music", and then choose the "Browse" option.
Step #4. Start to look for and choose which tracks you'd like to add to your library for downloading. You can just tap the "three-dot" icon next to it and select the "Add to Library" option.
Step #5. Press on the "More" option, and then just select the "Download" button. This will trigger the downloading process to commence.
You may also see a list of the songs you have downloaded by tapping the "Download" tab that is in the sidebar on your screen's left area.
Using Your Portable Devices
Of course, you may also use your premium Apple Music account on your portable devices. If you'd like to do the downloading process via your Android, iPad, or iPhone, you just have to follow the below guide.
Step #1. Launch the Apple Music app and just log into your account by providing your account information.
Step #2. Browse the specific Apple Music contents that you'd like to download. Add them to your library by pressing the "Add to Library" menu.
Step #3. To download the song, just press and hold it until the "Download" option appears on the screen.
By doing the above, you'll get to listen to your Apple Music favorites in offline mode via your portable gadgets.
Again, these tutorials will only work if you are using an Apple Music premium account. In order to download music from Apple Music for free, there should be another way to do that. And that's what we will be sharing as we head over to the next section of this post.
Part 2: How to Download Apple Music Songs [Without Subscription Plan]
Paying a monthly subscription fee of 10.99 USD could be too much for some users. Thus, it would really be an advantage to find out and learn how to download music from Apple Music for free. Probably a lot of users are wondering if this is possible, knowing that Apple Music tracks are encrypted with DRM. Well, there should always be workarounds available!
At first, it might seem impossible to download music from Apple Music for free, but there will always be a way. In the case of keeping Apple Music tracks forever accessible and downloading them even without a subscription plan, professional and trusted software apps like 苹果音乐解锁器 will be able to help.
It is a tool that's capable of unlocking the tracks from DRM protection, making them playable on any device, media player, or third-party app (editing apps, etc.). It even has the power to transform them into popular and flexible formats like MP3. Worrying about the output files should not be a concern, as this app ensures lossless transformation. Plus, it has an easy interface, making it simple even for beginners to complete the process of downloading music from Apple Music for free.
To be able to begin utilizing Apple Music Unlocker, it must first be downloaded and installed. Upon completing the installation process, the user can refer to the below detailed guide on how to download music from Apple Music for free.
Step #1. Fire up the Apple Music Unlocker. On the main screen, the "Open the Apple web player" button will be visible right away. Press this menu.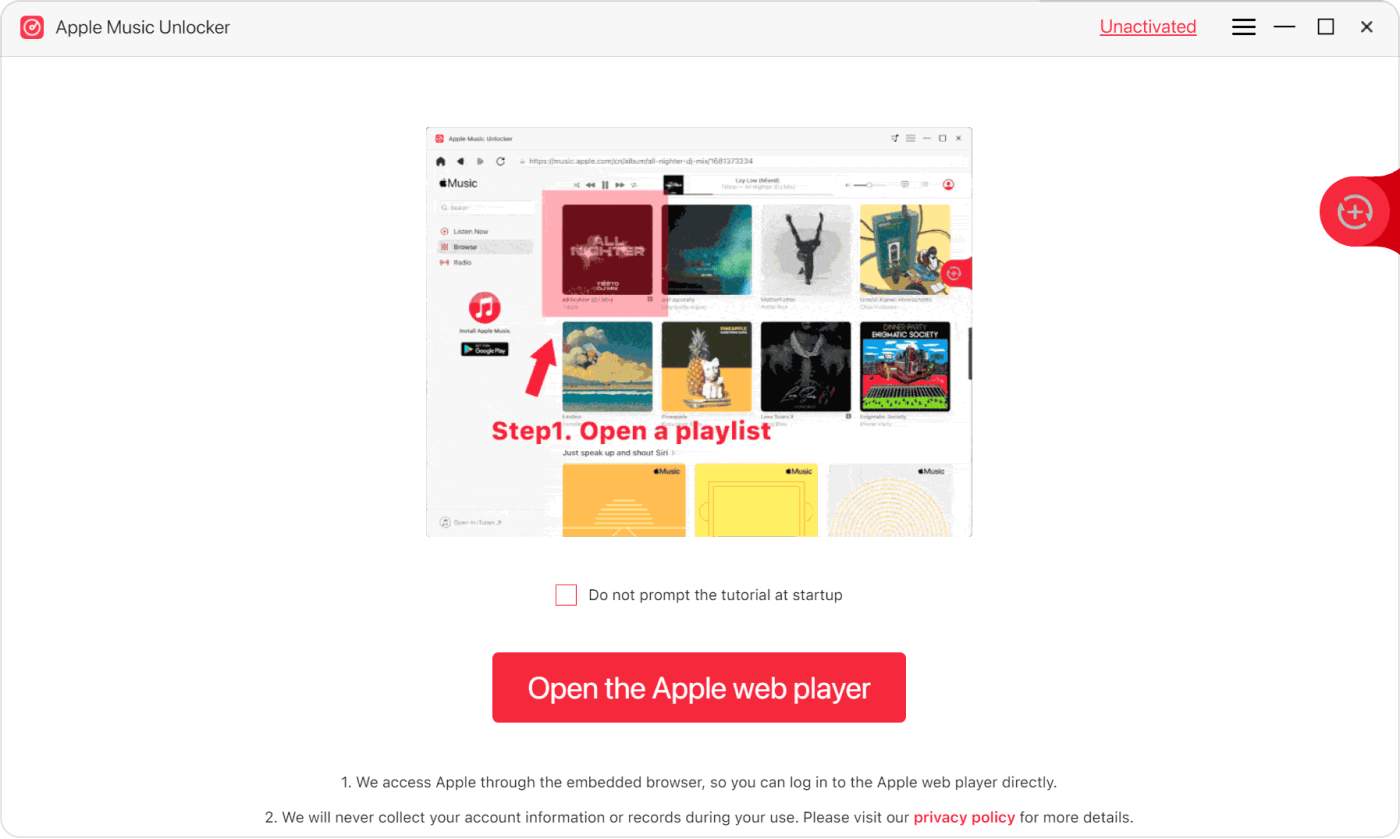 Step #2. You will be led to a new window wherein you have to tap the "Sign in" button at the top of the screen. Just provide your account details to log into your Apple ID account.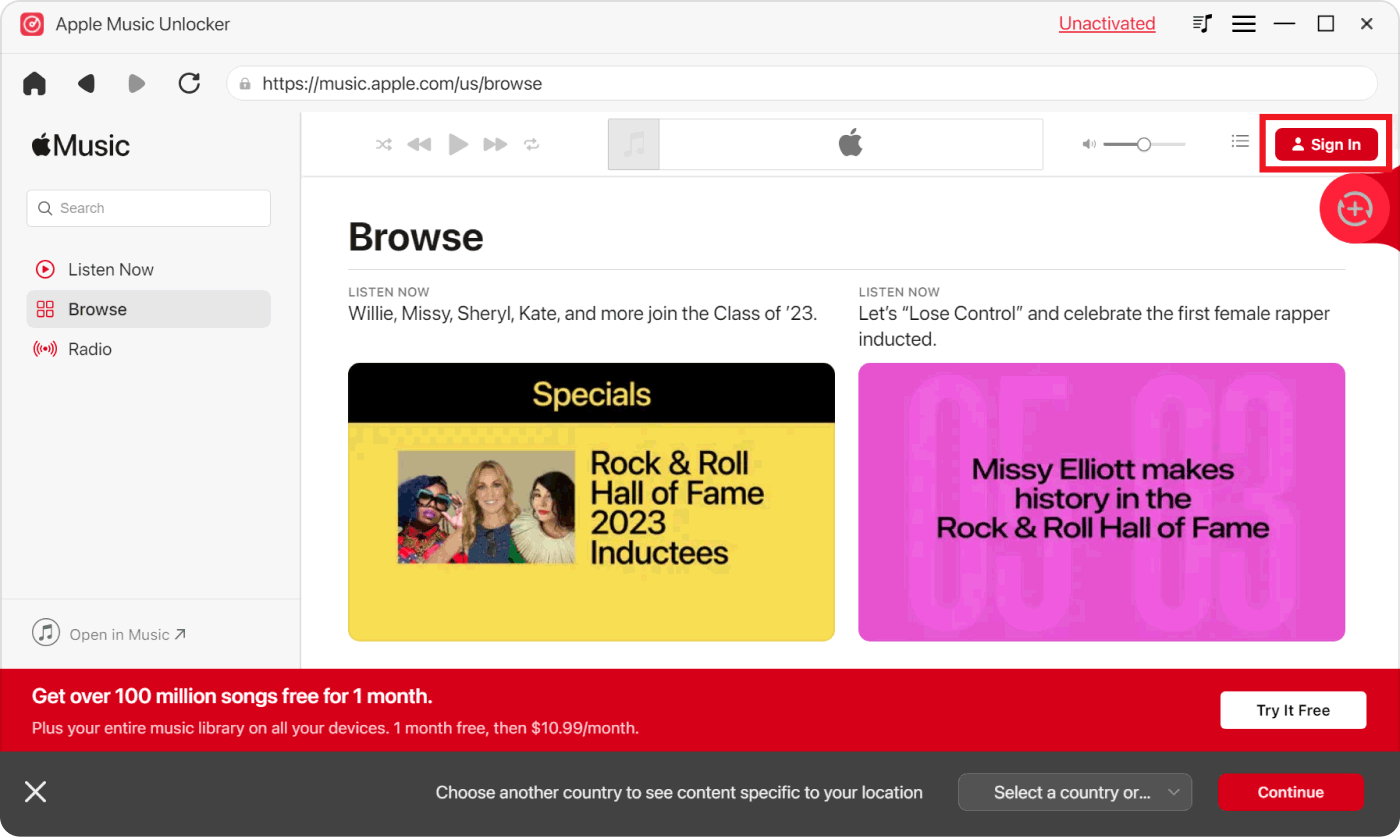 Step #3. Start browsing and choosing which songs, albums, or playlists, you'd like to process through this tool. Dragging and dropping them to the red "add" icon on the side is what must be done next. Alternatively, opening a playlist and then tapping the red "add" icon afterward will also let you add all the songs in that particular playlist.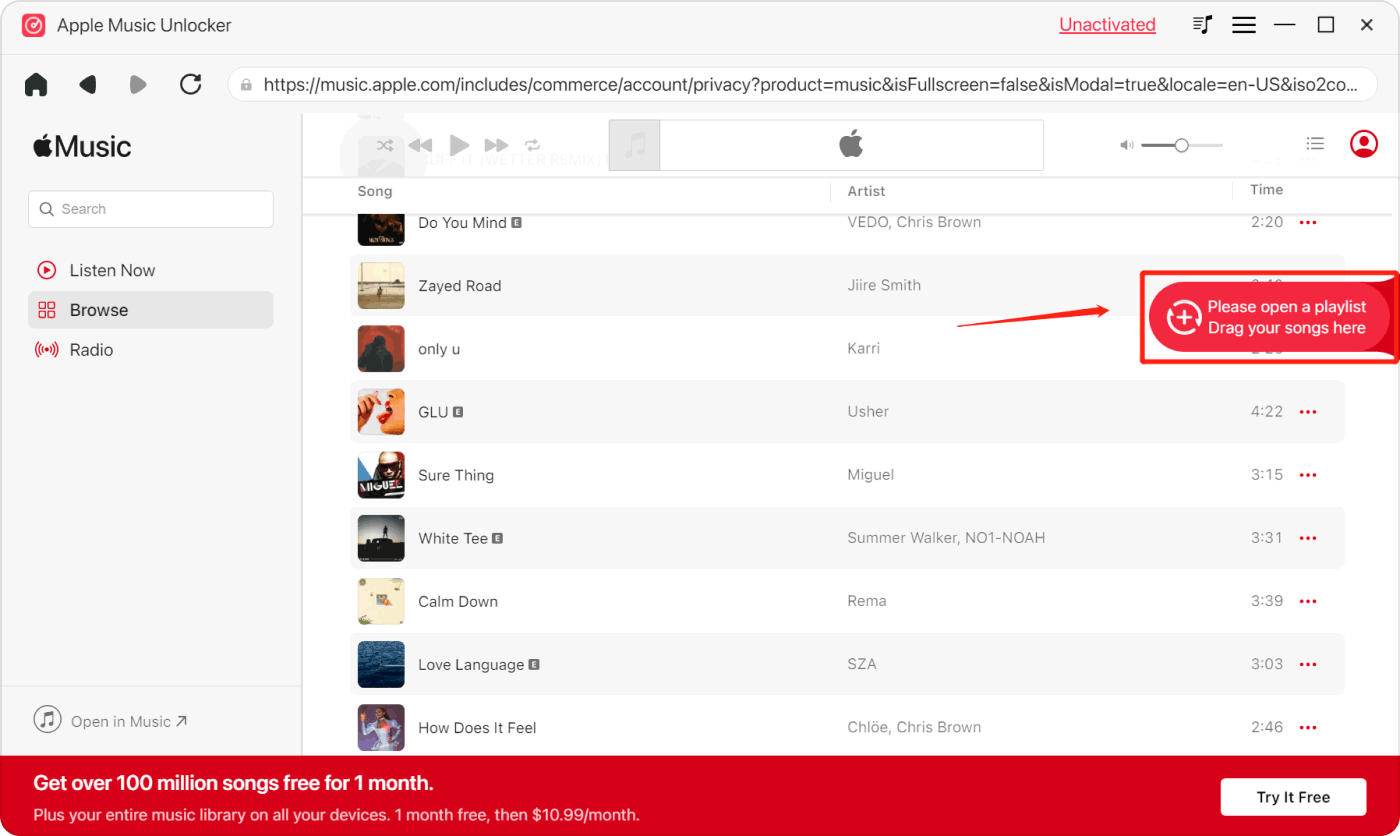 Duplicate tracks won't happen as the tool can automatically detect them, so double-up tracks will be avoided.
Step #4. Set up the output settings as you like. From the available output format selections, choose which one you'd like to use. You may also set up where you'd like the converted tracks to be saved after the transformation process by modifying the output folder.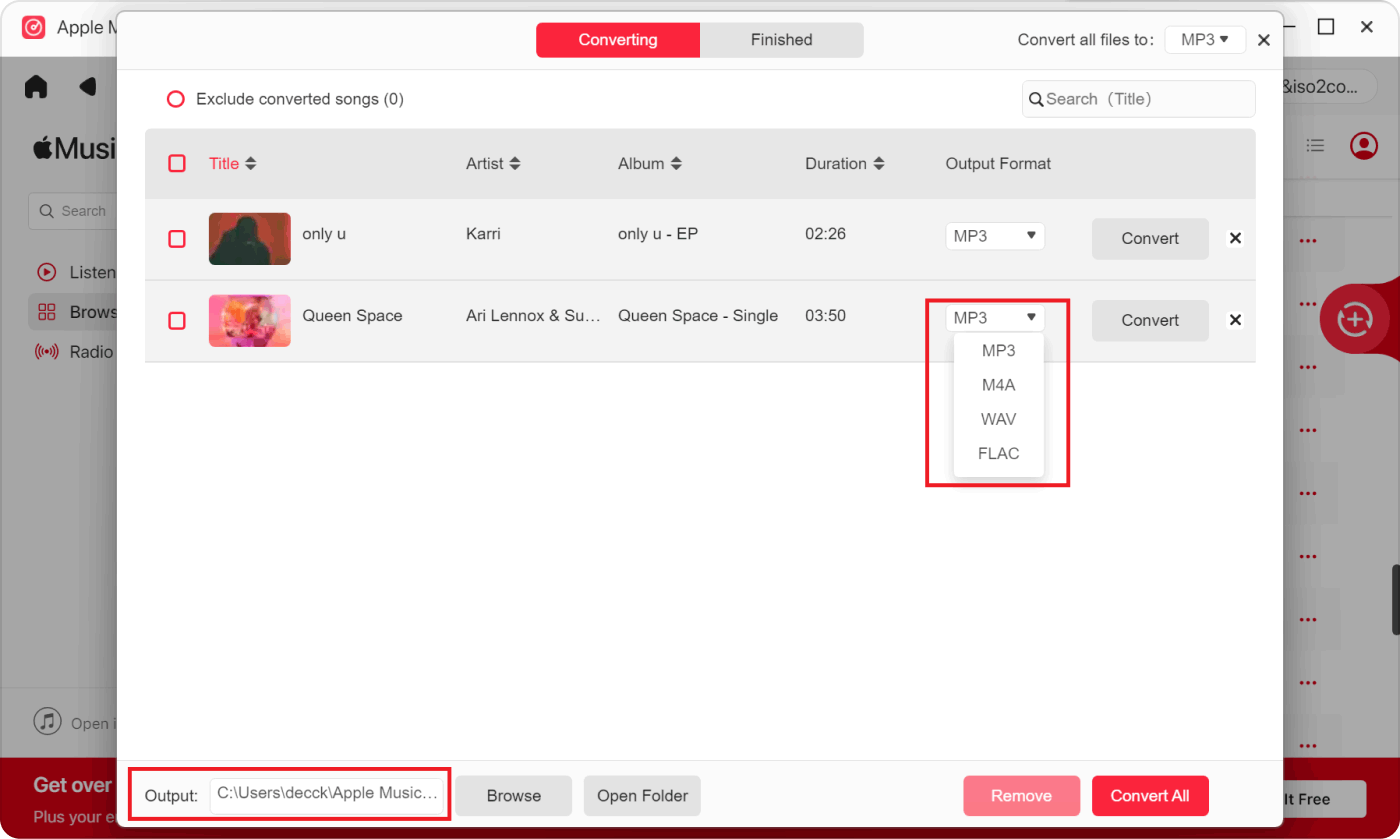 Step #5. The conversion of the added songs shall start once the "Convert" or "Convert All" option has been tapped. Choosing the latter will let you process all the uploaded content in one go. Otherwise, if you'd like to convert only a few, you may opt to select the "Convert" option instead.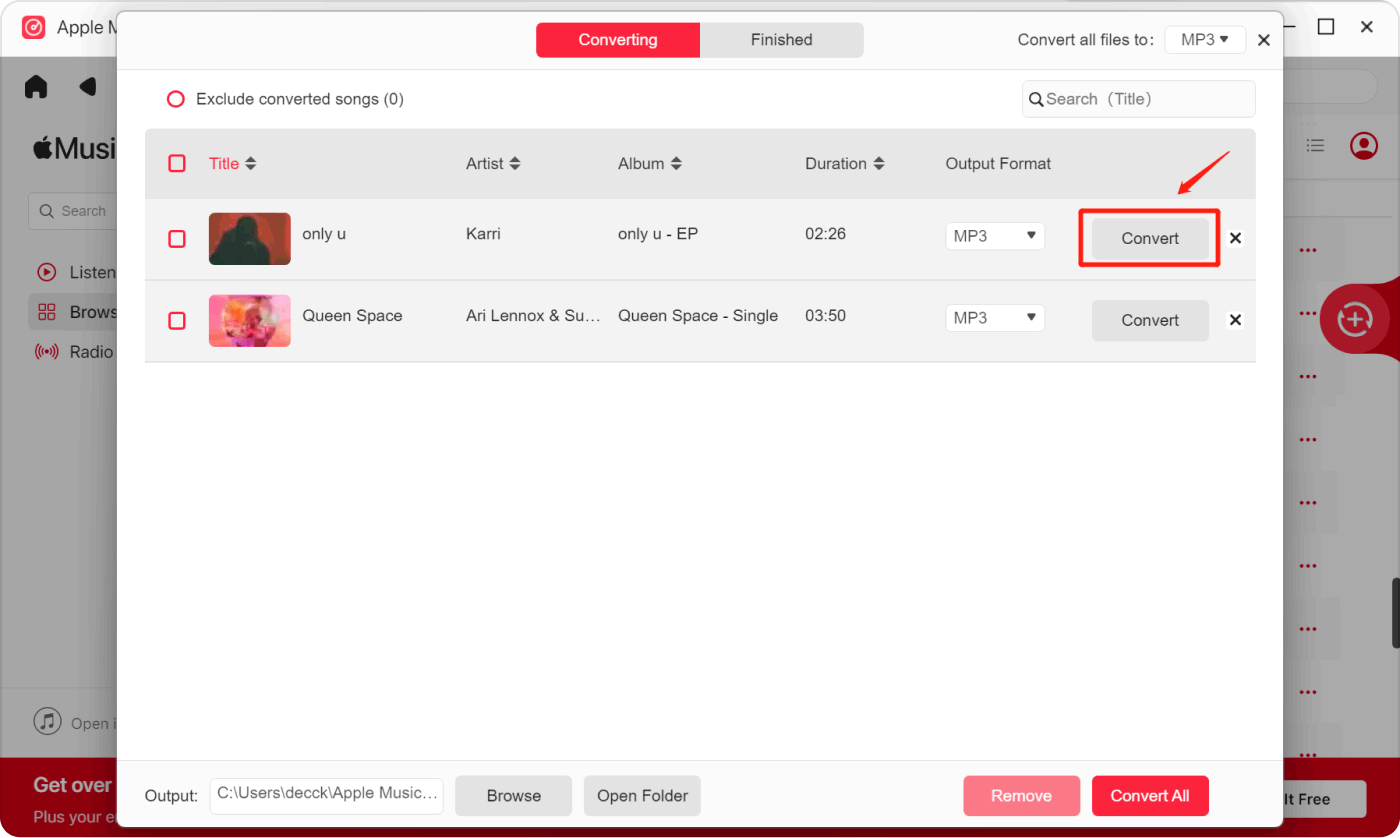 In a few minutes, you should be able to get the transformed Apple Music tracks that are already unlocked from DRM protection. Since they are now DRM-free, you can save them on any device that you have and listen to them whenever you want to without worrying about whether you have an active Apple Music subscription or not. Saving them on external drives for streaming in your car while traveling or on other speakers should also be fine and possible.
第3部分:摘要
With the several paid plans that are being offered by Apple Music, there is no doubt that music lovers will find the comfort and ease that they have been looking for when listening to good music. It is just that paying a fee monthly could somehow feel too much.

Fortunately, there is a way to download music from Apple Music for free. Even without a subscription plan, one would be able to enjoy Apple Music's content and access it on any device without worrying about restrictions and limitations. This is all thanks to reliable and professional software apps like Apple Music Unlocker.
When it comes to downloading and conversion needs (for Apple Music songs), Apple Music Unlocker could be a good partner given that it has the ability to unlock the tracks and make them flexible enough to be played anywhere.