If you're an avid audiobook listener and own both an iPhone and an Android device, you might have encountered some challenges when trying to access your iTunes audiobook collection on your Android phone or tablet. While iTunes is a popular platform for purchasing and organizing audiobooks, it is primarily designed for iOS devices. However, fear not! There are simple and effective ways to listen to iTunes audiobooks on Android.
In this article, we will walk you through a step-by-step guide on how to transfer and listen to your iTunes audiobooks hassle-free on your Android device. Whether you want to continue listening to your favorite titles during your daily commute or while on the go, we've got you covered. Let's explore the methods that will allow you to seamlessly access your audiobook library on your Android and enhance your listening experience.
内容指南 Part 1. Is it Possible to Listen to iTunes Audiobooks on Android Directly?Part 2. How to Listen to iTunes Audiobooks on Android?Part 3. How to Listen to iTunes Audiobooks on Android? [The Best Way]部分4。 结论
Part 1. Is it Possible to Listen to iTunes Audiobooks on Android Directly?
iTunes, developed by Apple Inc., is a popular platform for purchasing, organizing, and enjoying various forms of digital media, including music, movies, and audiobooks. While iTunes offers a vast collection of audiobooks that users can purchase and download, it is primarily designed to work with Apple's ecosystem, such as iPhones, iPads, and Mac computers.
This integration with Apple's ecosystem poses a challenge when attempting to play iTunes audiobooks on Android devices. There are several key reasons why iTunes audiobooks cannot be played directly on Android devices:
File Format and DRM Protection: iTunes audiobooks are typically encoded in the Apple's proprietary audio format, M4B (MPEG-4 Audio Book File). Additionally, these audiobooks often come with Digital Rights Management (DRM) protection, which restricts unauthorized playback and copying. Unfortunately, Android devices do not natively support the M4B format, nor can they handle the DRM protection utilized by iTunes.
Platform Incompatibility: Apple's closed ecosystem is designed to keep its services within its own devices. As a result, iTunes content, including audiobooks, is optimized to work seamlessly with iOS and macOS devices. While Apple provides dedicated apps like Apple Books for iOS and macOS users, there isn't an official iTunes audiobook app for Android users.
Lack of iTunes for Android: Unlike iOS devices, Android devices do not have native support for the iTunes software. This means that Android users cannot directly access their iTunes library or purchase new audiobooks through iTunes as iOS users can.
Vendor Lock-In: Apple has a business interest in keeping its customers within its ecosystem. By making it difficult to transfer iTunes audiobooks to non-Apple devices, such as Android, the company encourages users to stick with their products.
Despite these obstacles, there are workarounds and third-party solutions available that can help Android users enjoy their iTunes audiobooks on their devices. In the following sections of this article, we will explore various methods to overcome these limitations and successfully listen to iTunes audiobooks on Android devices.
Part 2. How to Listen to iTunes Audiobooks on Android?
Fortunately, there is a practical solution to enjoying iTunes audiobooks on your Android device. By using iTunes audiobook converters, you can convert the M4B audiobooks into a widely supported format like MP3, removing the DRM protection in the process. Once the audiobooks are converted, you can easily transfer them to your Android device and listen to them using your preferred audiobook player app. Here's how you can do it:
Step 1: Choose an iTunes Audiobook Converter
Start by selecting reliable iTunes audiobook converter software. There are several options available online, so make sure to pick one that suits your needs and platform (Windows or macOS).
第 2 步:安装并启动转换器
Download and install the chosen iTunes audiobook converter on your computer. Once installed, launch the software.
Step 3: Add iTunes Audiobooks to the Converter
Open the converter and import your iTunes audiobooks into the program. Most converters will automatically detect your iTunes library and display the available audiobooks. Select the audiobooks you wish to convert by adding them to the conversion queue.
Step 4: Choose Output Format (MP3)
Select the desired output format for the converted audiobooks. Since MP3 is widely supported across various devices, including Android, it is the recommended format for compatibility.
Step 5: Adjust Conversion Settings (Optional)
Some converters allow you to customize the output settings, such as the audio quality or file naming conventions. You can adjust these settings according to your preferences.
步骤6:开始转换
After configuring the settings, click the "Convert" or "Start" button to begin the conversion process. The software will convert the iTunes M4B audiobooks into MP3 format and remove the DRM protection during the process.
Step 7: Transfer MP3 Audiobooks to Android Device
Once the conversion is complete, you will have DRM-free MP3 audiobooks on your computer. Now, you can transfer these audiobooks to your Android device using either of the following methods:
Method A: Using USB Cable
Connect your Android device to your computer using a USB cable. Your Android device should appear as a removable storage device on your computer. Simply drag and drop the converted MP3 audiobooks into the appropriate folder on your Android device, such as the "Audiobooks" or "Music" folder.
Method B: Using Cloud Storage
Alternatively, you can upload the converted MP3 audiobooks to a cloud storage service, such as Google Drive or Dropbox. Install the corresponding cloud storage app on your Android device, sign in, and download the MP3 audiobooks from the cloud to your Android device for offline listening.
Step 8: Choose an Audiobook Player App
Lastly, make sure you have a suitable audiobook player app installed on your Android device. Several free and paid apps are available on the Google Play Store, such as Audible, Smart Audiobook Player, or Librivox Audio Books, to name a few. Open the app, locate your transferred audiobooks, and start enjoying your iTunes audiobooks on your Android device without any restrictions.
By following these steps, you can liberate your iTunes audiobook collection from Apple's closed ecosystem and enjoy them on your Android device anytime, anywhere. Happy listening!
Part 3. How to Listen to iTunes Audiobooks on Android? [The Best Way]
声音解锁器 is one of the most trusted and effective options for converting audiobooks into MP3 format on your PC or Mac. Using this specialized program, audiobook files that have DRM (Digital Rights Management) protection can be removed and converted into widely used formats like MP3. Audible Unlocker gives you the freedom to listen to your preferred books anywhere and whenever you like by enabling you to enjoy your downloaded or purchased audiobooks on any device that supports MP3 playing.
The easiest solution is undoubtedly Audible Unlocker, which provides a smooth and user-friendly conversion process for audiobooks. This adaptable tool offers both novice and experienced users high-quality output and simple to understand instructions.
The following describes how to use Audible Unlocker step-by-step:
1. On your Mac or Windows computer, launch Audible Unlocker.
2. Drag and drop the Audible audio files you want to convert into the program to easily import them.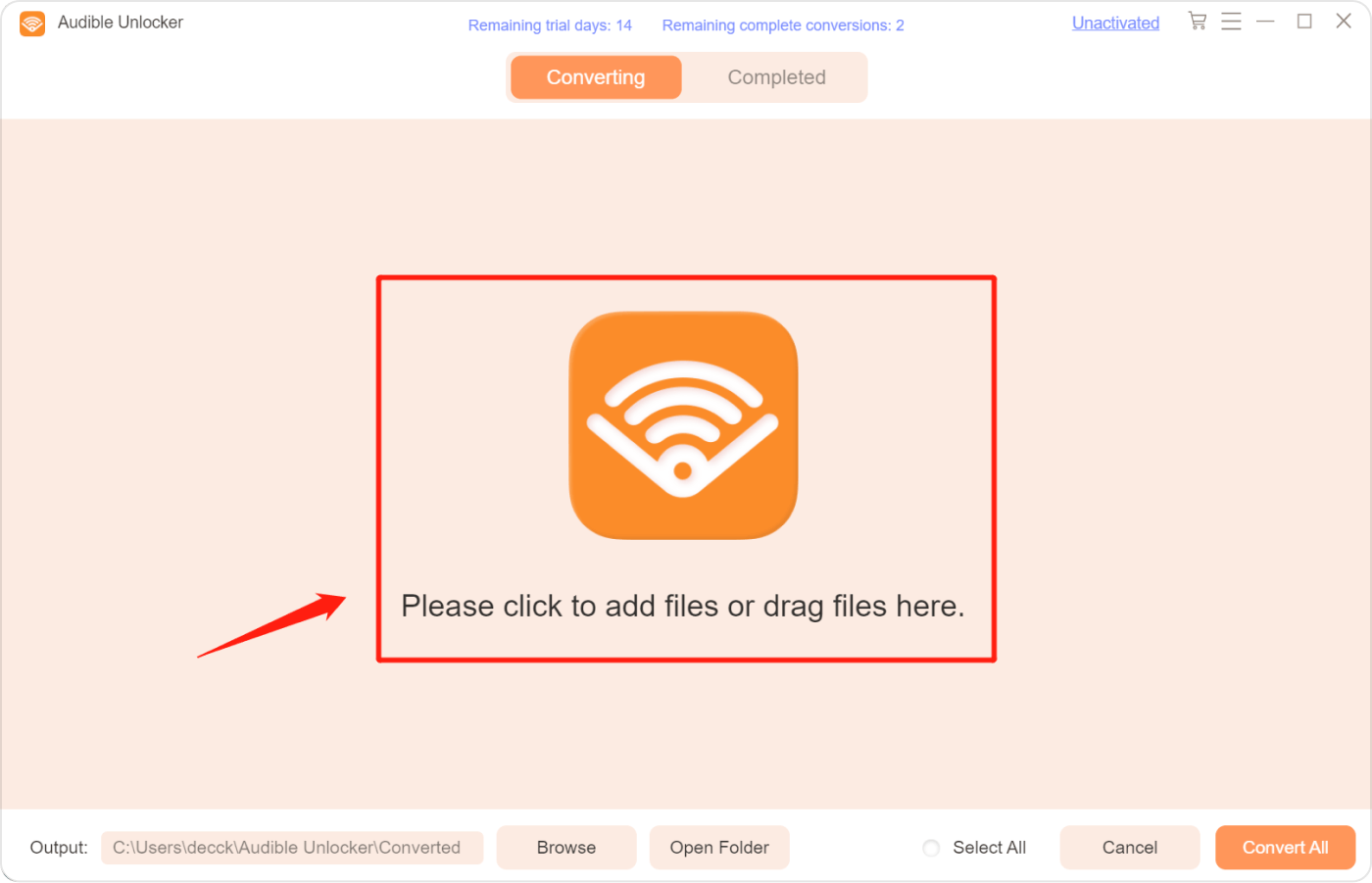 3. Choose your preferred output format from the list of choices, including MP3, WAV, M4A, and FLAC. The output folder for the converted files can also be specified.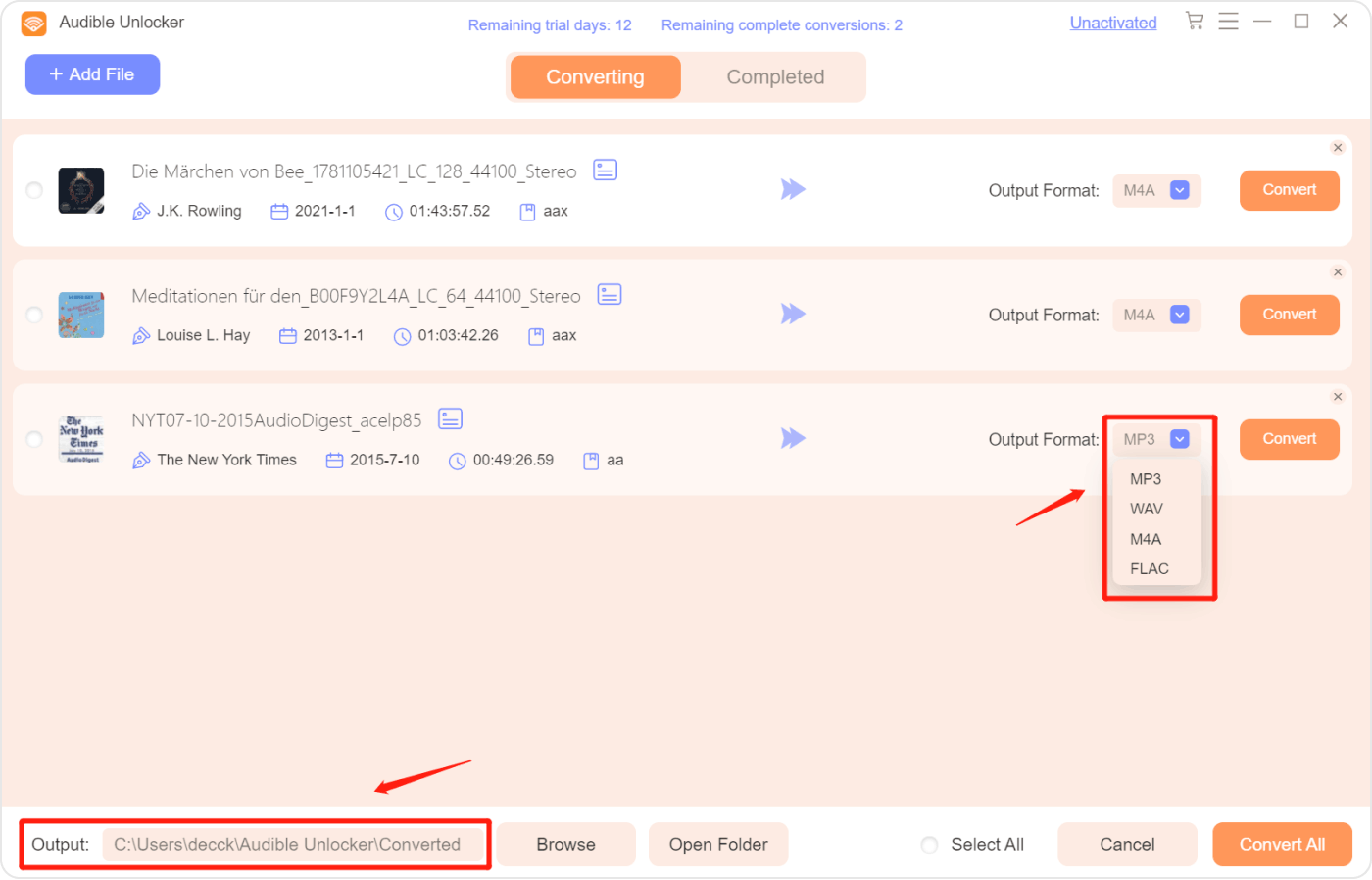 4. You can further customize the audiobook by selecting "Split by chapters" from the menu that appears when you click the three horizontal lines in the top right corner. To confirm the setting, select "Save."
5. Depending on your preference, click the "Convert" or "Convert All" button to start the conversion process.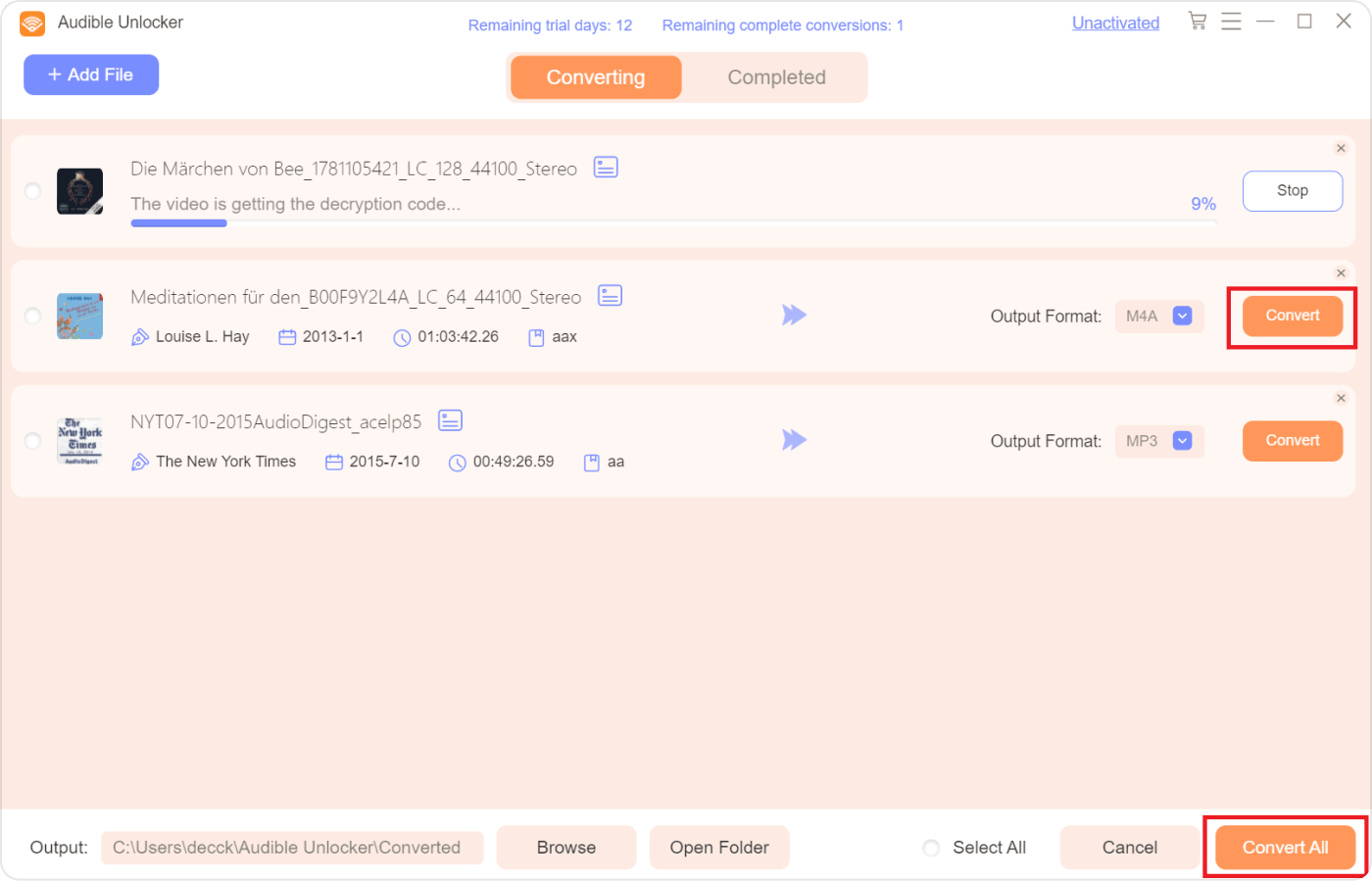 6. By selecting "Open File" after the conversion is finished, you may access the converted audio files under the "Completed" section.
Audible Unlocker by iOS Unlocker is a great app for removing DRM restrictions from Audible audiobooks. It's a practical option for audiobook lovers looking for a hassle-free method to enjoy their audiobooks because it's simple to use and works with both Mac and Windows systems.
部分4。 结论
In conclusion, to listen to iTunes audiobooks on Android devices might seem like a daunting task due to the inherent limitations of Apple's closed ecosystem. However, with the right tools and methods, it is entirely possible to overcome these challenges and liberate your audiobook collection for cross-platform listening.
Among the various solutions available, Audible Unlocker by iOS Unlocker stands out as the best tool for the job. This specialized software offers a seamless and user-friendly experience, allowing you to effortlessly convert iTunes audiobooks to commonly supported formats like MP3 while removing DRM protection. With Audible Unlocker, you can enjoy your purchased or downloaded audiobooks on any device that supports MP3 playback, giving you the flexibility to listen to your favorite titles wherever and whenever you desire.
The step-by-step guide provided in this article demonstrates just how simple and efficient Audible Unlocker is. With its versatile features, compatibility with both Mac and Windows computers, and high-quality output, it caters to both novice and advanced users alike.
So, if you're looking to break free from the constraints of audiobooks, Audible Unlocker is undoubtedly the best choice. Embrace the freedom of listening to your audiobooks on any device and make the most of your audiobook collection with this exceptional tool. Upgrade your audiobook experience with Audible Unlocker today!