Perhaps you are too excited to get your hands on your iPhone only to find out that it's locked with an Apple ID from its previous owner. Find out how to crack Apple ID password plus better alternatives in this article.
Buying a locked iPhone is totally not recommended. There are authorized sellers where you can purchase used iOS devices that are already unlocked and ready to use. But, if it's too late for you to return it now, don't worry, there are still solutions ahead. It is still possible for you to bypass the lock without help from the previous owner.
You can crack the Apple ID and password anytime but the process could be time-consuming and is not certainly guaranteed.
Part 1. Use the Safest and Most Convenient Way to Bypass the Apple ID and PasswordPart 2. Use The DNS Method to Crack Apple ID and PasswordPart 3. The Safest Way to Crack Apple ID PasswordPart 4. Tips To Secure Your iPhonePart 5. Summary
Part 1. Use the Safest and Most Convenient Way to Bypass the Apple ID and Password
We don't want to keep you waiting and ever-searching for various methods to get rid of the Apple ID and password. There is one better solution that you can utilize to bypass these details without having to crack Apple ID password.
Your Apple ID is essential in every iOS device. It is considered to be one of the authentication log-ins that envelopes all the information and personal details of the owner.
Once you log in using your Apple ID, all the settings on your iOS device will be switched according to your set preferences. There can only be one Apple ID per device and it's locked on the unit unless you sign out and remove the account.
However, in many cases, people forget to sign out of their Apple ID before selling their devices. Buyers are left with a locked iPhone and the easiest way for them to unlock the iPhone is to request the previous owner for the details or remotely erase the iPhone so the new user can customize the device.
iOS Unlocker is ideal for situations such as bypassing the Apple ID to unlock your iPhone. Using this software will let you gain full control of the iPhone without any limitations.
You will have access to iCloud settings and other Apple ID features. Plus you will be able to use the device the way you want it to. Here's how you can use iOS Unlocker to crack Apple ID password:
Step 1. Launch iOS Unlocker on your computer
Step 2. Select Remove Apple ID from the main menu
Step 3. Connect the iPhone using a USB cable
Step 4. Click Start
Step 5. If Find My is disabled, iOS Unlocker will begin the Apple ID removal
Step 6. If Find My is enabled, follow these:
Reset All Settings on your iPhone. Go to Settings, tap General, and choose Reset All Settings. Enter the device passcode if necessary
If the Two-Factor Authentication is on, verify using the code sent to the linked devices and phone number. Otherwise, go to Settings, select Apple ID, and tap Password & Security. Turn on the Two-Factor Authentication.
After checking, enter 0000 on the software to confirm
Step 7. Provide the device make and model and click Start
Step 8. Wait for the process to be completed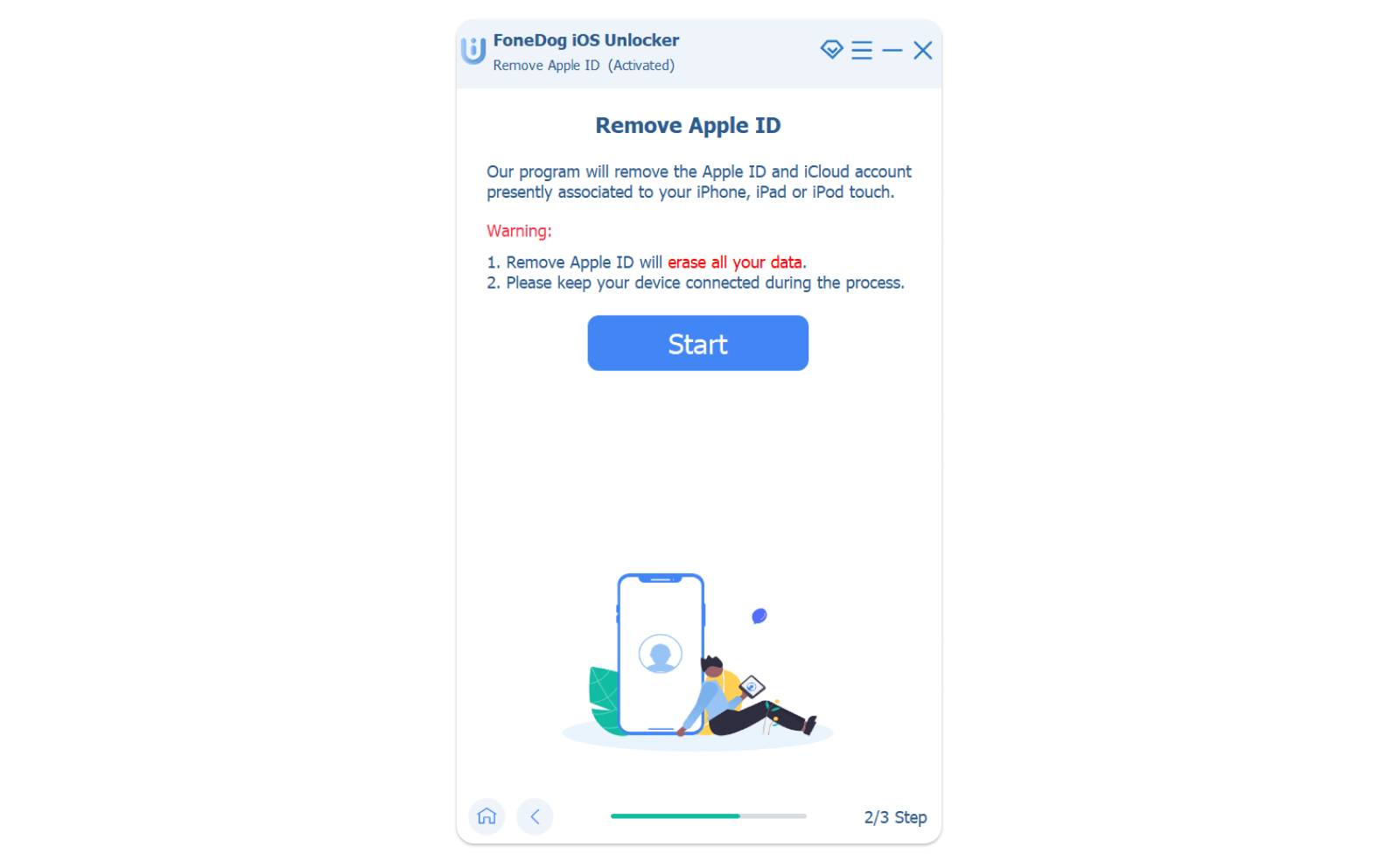 Once the Apple ID is completely removed from the unit, you can now begin to customize your iPhone accordingly. However, you should note that when you perform this Apple ID removal, all the data on the device will be erased.
Part 2. Use The DNS Method to Crack Apple ID and Password
The conventional method to crack Apple ID password on an iOS device is to use the DNS method. However, this method is best done on an iPhone running on older iOS versions.
Here are the steps on how to use the DNS method to unlock the Apple ID:
From the Activation screen, press the Home button and choose the Wi-Fi Settings. Tap the i icon
Select the DNS server based on your location.
Europe: 104.155.28.90
USA & North America: 104.154.51.7
Asia: 104.155.220.58
Other areas: 78.109.17.60
Tap Return and connect to the internet
Go back to the Activation screen and tap Activation help
You will receive a notification that you have finally connected to the DNS server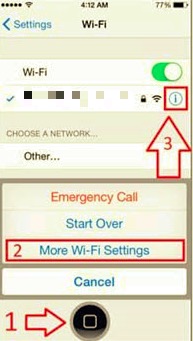 The downside of this method is that you might need to reconfigure the DNS server every time your iPhone is locked with the Apple ID.
Part 3. The Safest Way to Crack Apple ID Password
If you opt to be on the safe side, you can also crack the Apple ID and password by contacting Apple Support. By doing this, Apple will be the one to unlock the unit for you.
You only need to provide them enough documentation that you purchased the used iPhone and that it wasn't declared stolen or lost. Apple Support will also ask for the device information such as the IMEI number, and the make and model.
The IMEI number is easily found in Settings, General, and then About. From here you will see the serial number, IMEI number, and other important information. You can also dial *#06# on the dialer for a quick view.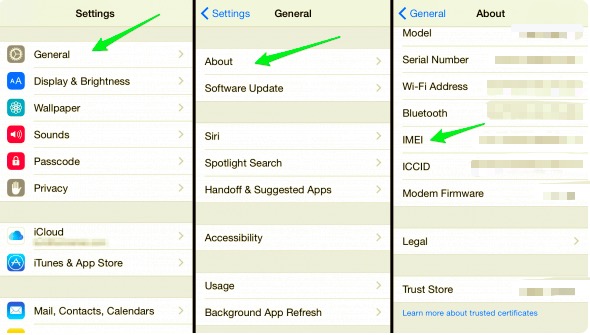 Using this method takes a while though. You may need to wait for a few hours or days before the iPhone will be totally unlocked.
Part 4. Tips To Secure Your iPhone
Everything is possible these days, even to crack Apple ID password. You need to ensure that your device is safe from any possible hacking scenarios.
Here are some tips that you can practice to keep your iPhone safe and secured at all times:
Use a 6-digit device passcode. Preferably, we recommend using an alphanumeric combination with special characters. However, you must always remember this code to avoid getting locked out of your iPhone.
Turn off the iCloud Sync Feature. iCloud Sync also saves all the information you allow on your iPhone including the passwords. This can trigger easy access in case your phone is lost or stolen. You can quickly turn off this feature in your Settings, tap your name, and select Sign Out. You will be asked to enter your Apple ID password. Select which apps you will allow syncing data.
Turn on the Two-Factor Authentication. Most devices and platforms these days require a Two-Factor Authentication before you can fully use the features. An authentication code, link, or email will be sent to the registered devices and numbers.
People Also Read3 Ways: How to Unlock iPhone 6 Passcode Without Losing DataHow to Unlock Apple Watch without Password: Effective Ways
Part 5. Summary
There are ways to crack Apple ID password but the results are not easily guaranteed. You can use a reliable and professional software to remove the Apple ID completely without having to stress over the previous account registered on the unit you purchased.
iOS Unlocker makes it convenient for you to remove the Apple ID in just a few minutes. This software is equipped with features that can remove the old Apple ID on any iOS device.
Other ways to bypass the Apple ID include using a DNS server and contacting Apple Customer support for further assistance. This article also included a few essential tips to secure your iPhone from possible hacking.