The Find My feature of your iPhone encloses an Activation Lock that's been developed to avert anyone from accessing your device, usually when it is lost or stolen, thus securing your data. It also gives you a chance to recover phone details.
However, this activation lock is a huge problem for people buying second-hand iPhones. They have a hard time looking for ways how to remove activation lock without previous owner.
Activation Lock is automatically enabled when you activate the Find My feature. This activation lock retains even after you have remotely erased your phone content. As long as you have your Apple ID and password and enabled the Find My feature, no one can gain access to your device.
Find out the solutions we have below.
How to Check for Activation Lock Before Buying?Method 1. Remove Activation Lock via DNS Server Method 2. Remove Activation Lock without Previous Owner (Removing Apple ID)Method 3. Contact Apple Support Summary
How to Check for Activation Lock Before Buying?
When buying used iPhones, make sure that you are getting it from authorized Apple resellers, if from someone you know, make sure that the device is no longer connected to the previous owner's account and it has been erased and reset.
How to remove activation lock without previous owner?
You will see a screen with "iPhone Locked to Owner" if it's running on iOS 15 and a later version when you wake or turn on the unit. It will be challenging to unlock an iPhone with an Activation Lock issue.
This is because the Activation Lock on every iPhone is linked to the Find My feature and the Find My is tied completely to iCloud.
How to Remove Apple ID (If You Are the Owner) Before Selling?
Removing your own account and other personal details from the iPhone before selling or sending to service is simple. Always be responsible before handing out your device to another person or buyer. Your information can be used and taken against you if it lands to the wrong owner.
Follow the steps below on how to remove your Apple ID and reset your iPhone.
Go to your Settings
Tap your account
Scroll down and select Sign Out
Provide your Apple ID password
Tap Turn Off
Return to Settings
Find Reset
Select Erase All Content and Settings
Method 1. Remove Activation Lock via DNS Server
If you already got the used iPhone and there is no way you can contact the owner, there is an option to implement how to remove activation lock without previous owner, which is to remove the Activation lock using a DNS server. However, this process can be time-consuming and confusing for beginners. But if you follow the steps carefully, you can unlock your iPhone completely and for free.
This method will utilize the DNS server. Every time you connect your device to a Wi-Fi network, it will first hook to available DNS servers and then connect to Apple servers. We will not reach the Apple server for this method, instead, we will go to iCloudDNSBypass.com.
Follow these steps:
Go to Settings and then tap Wi-Fi
Select Choose a Wi-Fi Network
Tap the Home button and choose Wi-Fi Settings
Find and tap "i"
Tap Configure DNS. Select the Manual option and then click Add Server. Check your appropriate region from the options below:
USA: 104.154.51.7
Europe: 104.155.28.90
Asia: 104.155.220.58
South America: 35.199.88.219
Australia and Oceania: 35.189.47.23
Return to the Wi-Fi page and select Next
Tap Back and Next a few times until your iPhone connects to iCloudDNSbypass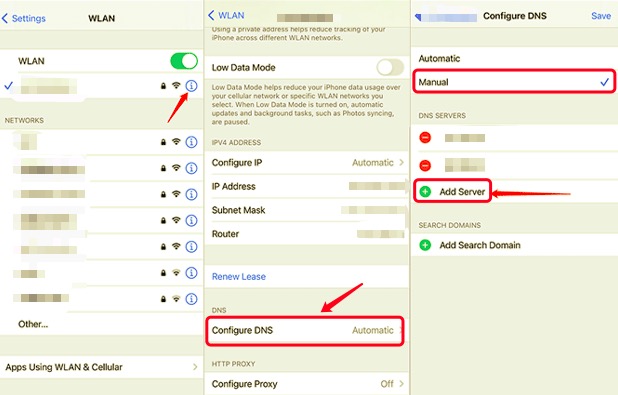 You can now start using the iPhone without the Activation Lock.
Method 2. Remove Activation Lock without Previous Owner (Removing Apple ID)
The most convenient way to get rid of the Activation Lock without the previous owner is to use a paid service such as an iPhone Unlocker, the Apple ID will be removed in just a few seconds, thus, you can start enjoying the device.
Once the Apple ID is completely removed from the iPhone, you can now take full control of your device, access iCloud settings and services, and many more.
One of the best iPhone Unlocker services today is iOS Unlocker. This software provides all the unlocking features you need to get the most out of the iPhone. It can unlock the following:
Face ID
4-digit Passcode
Activation lock
Apple ID
Screen Time
After you have taken out the old Apple ID off the unit, you can then create a new account and activate your iPhone.
Here are the complete steps on how to use iOS Unlocker:
Step 1. Install and Launch iOS Unlocker
Get the software, iOS Unlocker running on your computer first. Once you have launched the program, select the Remove Apple ID from the main menu.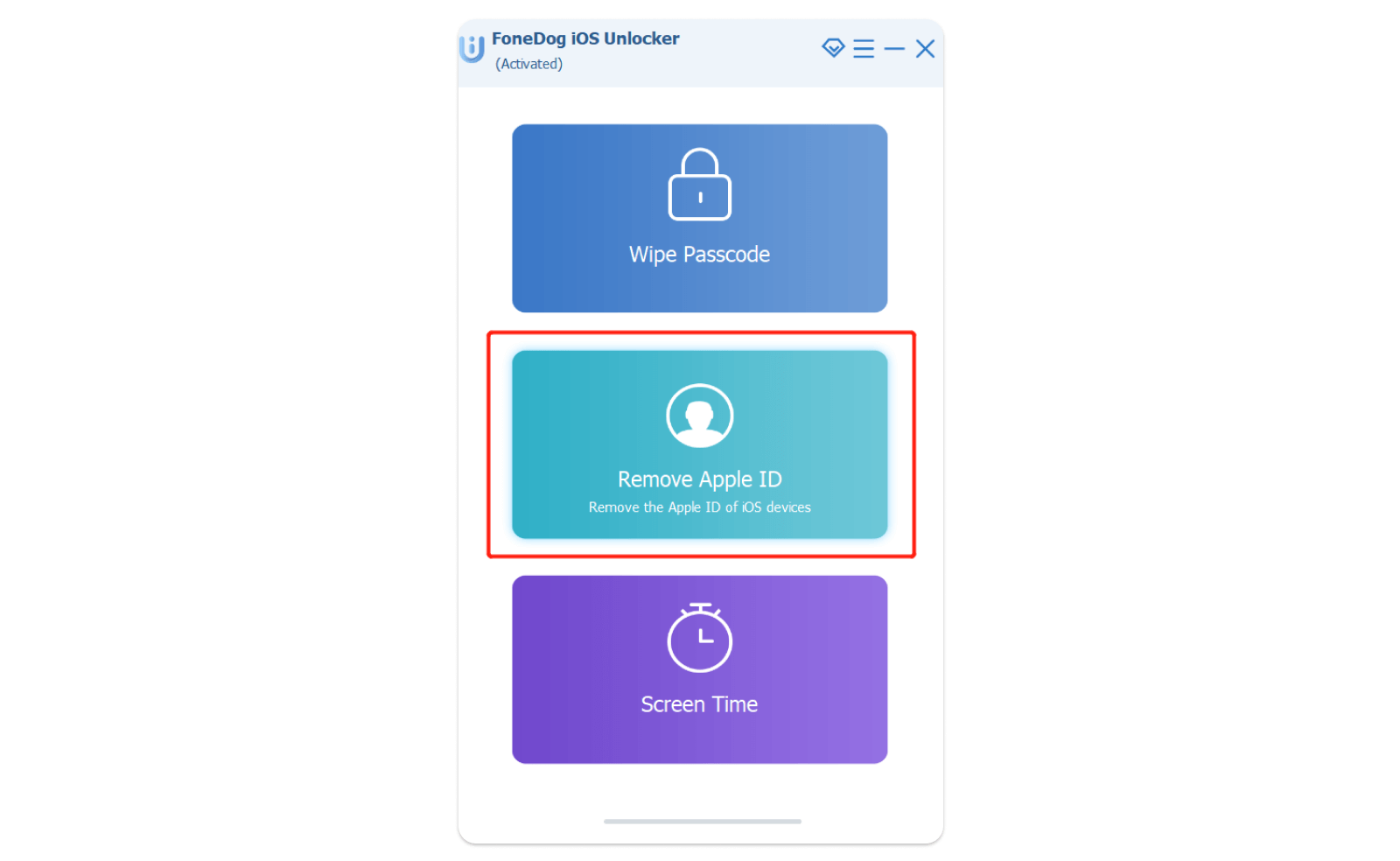 Step 2. Connect your iPhone
Using a USB cable, connect your iPhone to the computer. If necessary, tap Trust This Computer.
Step 3. Remove Apple ID
Navigate to the Remove Apple ID menu and find the Start button to begin deleting the Apple ID associated with the device.
Your iPhone is now unlocked. Start customizing it the way you want your iPhone to be.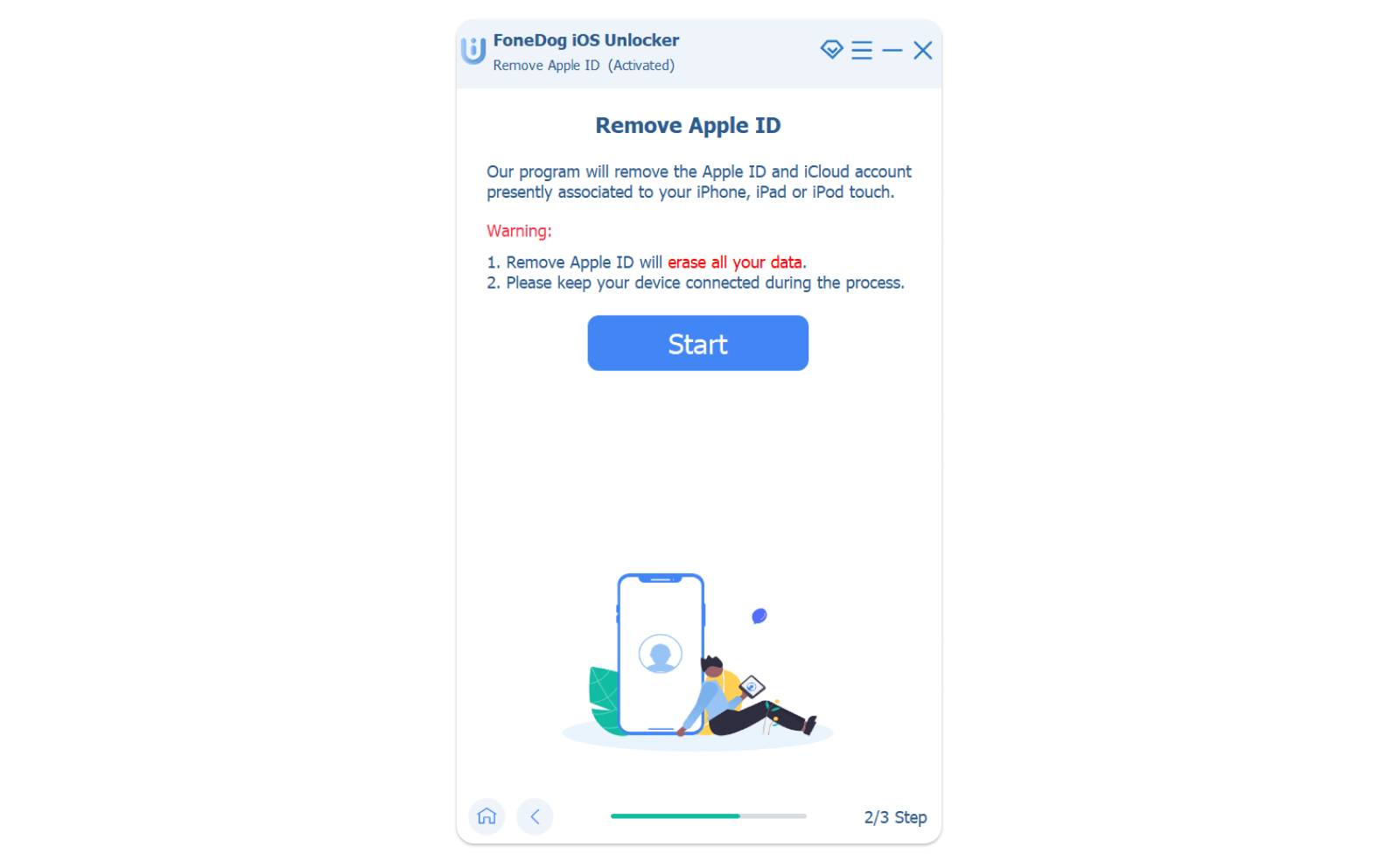 Important Notes:
Upon using iOS Unlocker, here are the things you must bear in mind:
You should highly consider if the Find My is disabled or enabled on the unit.
If the Find My is enabled, you should reset all settings on the iPhone. Open Settings, tap General, find and select Reset, then choose Reset All Settings. If required, provide the device passcode to proceed.
When the Find My is disabled, iOS Unlocker will simply proceed with the account removal.
Check if the iPhone has two-factor authentication enabled. If yes, you will be asked to verify using the devices and numbers you have enrolled for the feature. Otherwise, you can open the Settings, then select the Apple ID, and then Password & Security. Go to the Two-factor authentication and turn the feature on.
Step 4. Confirm Removal
Once enabled with the two-factor authentication, enter 0000 on the program screen to confirm your device's make and model. It will then ask you to download the compatible firmware package by just clicking the Start button. You just have to wait for the process to be completed and the Apple ID is removed entirely.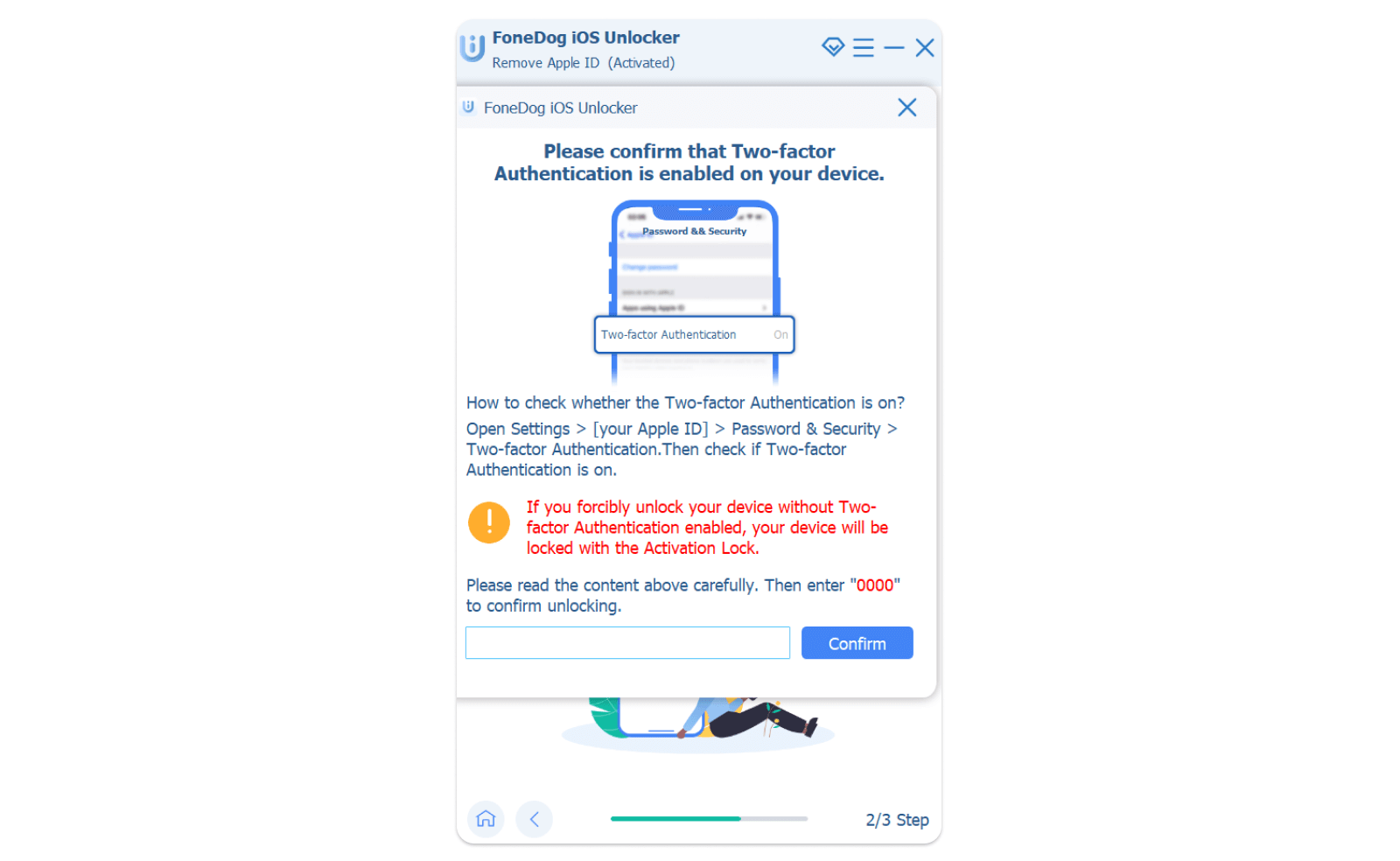 Method 3. Contact Apple Support
Apple does not officially recommend using third-party tools to remove the Activation Lock on used iPhones. They suggest buying it from authorized resellers only or calling Apple Customer Support if you need unlocking services.
However, you should prepare documents to prove that you officially purchased the device from the previous owner by providing receipts. You also need to provide the iPhone's serial number and IMEI.
People Also Read3 Ways: How to Unlock iPhone 6 Passcode Without Losing DataHow to Check If iPhone is Unlocked or Locked?
Summary
If you are wondering how to remove Activation Lock without previous owner, we hope that this article guide has helped you immensely. Getting rid of the Activation Lock is a tedious process since it is tied up with iCloud.
However, using a paid service and professional software can certainly do the job in just a matter of minutes. iOS Unlocker is so far the ultimate software to try when you are stuck with a locked iPhone.
It has all the necessary features needed in various scenarios including Activation Lock, passcode, and more.